The Hubble Hero House
Proceeds benefit local charities and non-profits



Hubble Homes is proud to bring back our tradition of building a home for charity. Expected to start in July of 2020 and finish before the end of 2020, this home will be sold and proceeds will benefit six valley non-profit organizations. This year, Hubble will be building one of our most popular floorplans the Brookfield with Bonus in Southern Ridge.

Hubble Homes is passionate about the communities we build in. The opportunity to give back through the Heart of Hubble program helps us improve the quality of life in our neighborhoods, give back to the community, and create a culture of giving within our company. The home is expected to be listed for sale this holiday season, all net proceeds from the sale of the home will be donated to these six valley charities: Boise Rescue Mission, Idaho Foodbank, Meridian Foodbank, Ronald McDonald House Charities of Idaho, St. Vincent de Paul Southwest Idaho and The Salvation Army. Hubble Homes will team up with many of our trade vendors and subcontractors to build the home. Graciously, Hubble Homes and its extended group of building partners will donate revenue proceeds, land for the lot, labor, and materials in an effort to make the largest donation possible to the valley non-profits.

The Southern Ridge community offers a quiet location in South Nampa located off Southside Boulevard and Locust Lane. The Brookfield with Bonus is 2,290 sq. feet and will be built as 4-bedroom, 2 bath home with a 2-car garage. It has many upgrades including granite countertops in the kitchen, vaulted great room and master bath suite with a soaker tub. The home combines the finest elements of a one-story home with wide-open living spaces, second level bonus room and private bedroom areas. Every Hubble Home is HERS® and Energy Star® Certified which comes with substantial annual energy savings. The buyer of the Hubble Hero Home will not only find their dream home, but they will also be making a difference for local charities.

The Hubble Hero House will benefit the following charities and non-profits (click logo to learn more):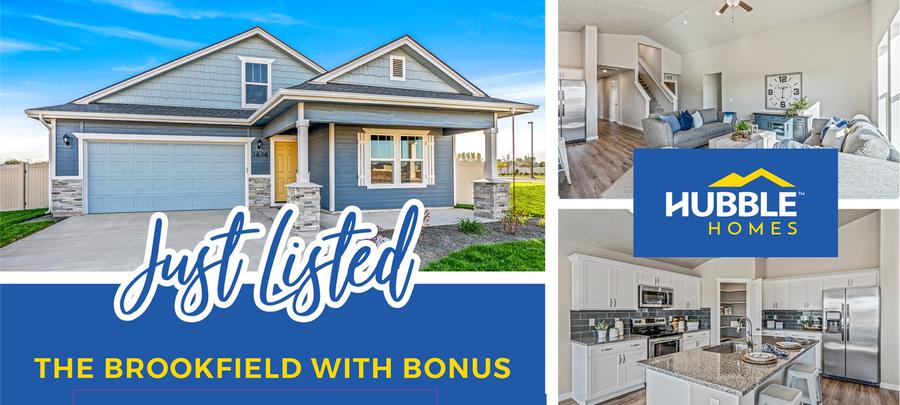 We have put SO MUCH extra love into building this home! This Brookfield with Bonus plan offers four bedrooms, an open-concept kitchen, a spacious great room, along with an oversized bonus room! This home also comes with a brand new refrigerator, blinds throughout the home, and full landscaping and fencing! This home is ENERGY STAR® Certified and HERS® Rated and comes with annual energy savings!
INCLUDED UPGRADES
Stainless steel Frigidaire side-by-side refrigerator with ice maker
Blind package
Full fencing
Full landscaping
FEATURES
Vaulted ceiling in kitchen, nook, and great room
Bright white kitchen, granite countertops, and shaker cabinets
LVP and carpeted flooring
Oversized upstairs bonus room
CONVENIENT LOCATION
Our Southern Ridge community in South Nampa is only minutes away from shopping, dining, entertainment, and 22 miles from downtown Boise and the Boise Airport.
Hubble Homes would like to extend a huge thank you to our trade vendors and subcontractors for all their assistance in building the Hubble Hero House. This extended group of partners have donated labor, materials, and monetary contributions to make this year's Hubble Hero House possible:

Builders First Source
Shane Womack Const. LLC
Integrity Heating
Keely's Drywall, Inc.
Inteframe Components LLC
45th Parallel Electrical
Matson Enterprises, LLC
Magic Plumbing, Inc.
Petersen Painting, Inc
Sunroc Corporation
InteriorWorx LLC
Western Roofing Inc.
Precision Excavation
Gale Industries Inc.
Row Landscaping
Power Enterprises, LLC.
Dillabaugh's Flooring
Alside Supply Center
Tinney Construction, Inc
Foundations, LLC
Robertson Supply
Performance Construction Cleanup
Coffelt Masonry, Inc.
Action Garage Door Inc
Aggregate Construction
Element Fencing, LLC.
Builders Lighting
Brundage-Bone Concrete
Building Energy, Inc.
US Mirror & Glass
A Woman's Touch, LLC
BathCrest
All American Rain Gutter
Veritas Maintenance, Inc
Interior Logic Group
Delta Faucets
Power Enterprises
Kwikset Locks
Louisiana-Pacific
The Blind Guy
Emser Tile
Shutter Shock Media
Real Signs, Inc.
Collins Company
Electrolux - Frigidaire
Sullivan Home Staging
TAS Flooring
Providence Properties LLC
Check out the video from our Kickoff Event!
Our Hubble Hero House is coming along great. Take a look!
Take a look inside our Hubble Hero House. It is now offically For Sale!